🌲 Farm Update 🌲 While we have a great selection of pre-cut trees still available, our fields are now closed for choose and cut trees. The Bakery will be serving up delights. Browse the Farmhouse gift shop to find Christmas treasures. Jump in the hay jump, have a festive face-off at the duck races, explore the Christmas Gnome's Home Sweet Gnome Home and say howdy to Jenny the donkey and all her chicken & turkey friends. While our hayrides won't be running, our fire pits will be blazing and ready for a s'more. Santa will be flying down to the farm Saturday, December 9, from 11am-1pm and available for photos in the Farmhouse.
Fraser, Nordmann & Noble Firs available in various heights up to 10′ while supplies last. Fraser Firs are the most fragrant, Nordmann Firs have dark green, shiny, long needles while Noble Firs shed the least with a blue hue to their needles. Happy Tree Hunting!
Looking FIR a tall FIR? Come out to the Pre-Cut Barn! We have tall Noble and Nordmann Firs up to 10′ available and Fraser Firs ranging from 5′ to 13′ with TWO remaining 13′-14′. While supplies last!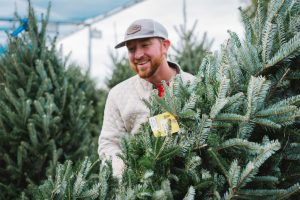 No shortage of trees at our farm!
Our decor-ready Leyland Cypress & Virginia Pine are available to choose-and-cut in our fields. Undecided on which locally grown tree to choose? Our elegant, allergen-friendly Leyland Cypress has a mild fragrance with short to medium-length needles and flexible branches. Our Virginia Pines are very fragrant with medium-length needles and rigid branches for maximum decoration support. Which is your favorite?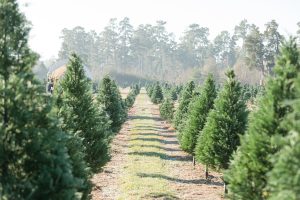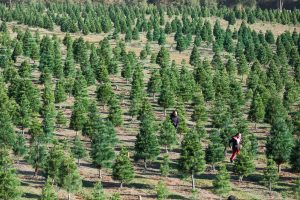 We are excited to announce that Tejas Chocolate & Barbecue will be back at the farm for the 2023 season! Make sure to drop by their food truck between the Farmhouse and Pre-cut Tree Barn to try some award-winning Barbecue and more. The carrot souffle is one of our favorites! Tejas has also been featured in Texas Monthly's The 50 Best BBQ joints several years.
2023 Season Dates:
November 18 – 19
November 24 – 26
December 2 – 3
Tejas also brings their award winning chocolate bars for purchase in the Bakery. They hand craft their delectable chocolate using only premium cocoa beans sourced from cacao farms around the world, locally at their Craftory in Tomball, Texas. Makes for a ready treat, as well as great stocking stuffers!
For the ultimate environmentally-friendly option, we grow our Leyland Cypress trees in containers so you can transplant your tree after Christmas. These trees range in height from 4-9 ft. tall.

2023 Season Living Trees Pricing: 
4 ft. in 3 gallon container $45
6 ft. in 7 gallon container $98
7 ft. in 15 gallon container $185
9 ft. in 30 gallon container $295
Leyland Cypress in a 3 gallon container: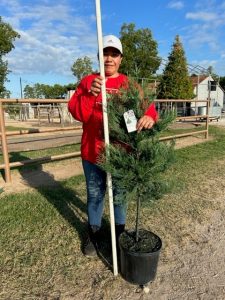 Leyland Cypress in a 7 gallon container:
Leyland Cypress in a 15 gallon container: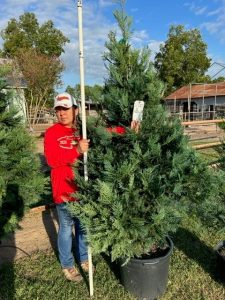 Leyland Cypress in a 30 gallon container: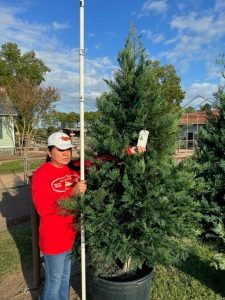 All tree sales are final. Spring Creek Growers is not responsible for the condition of any tree once it has left the premises. Please read and follow all tree care instructions provided.